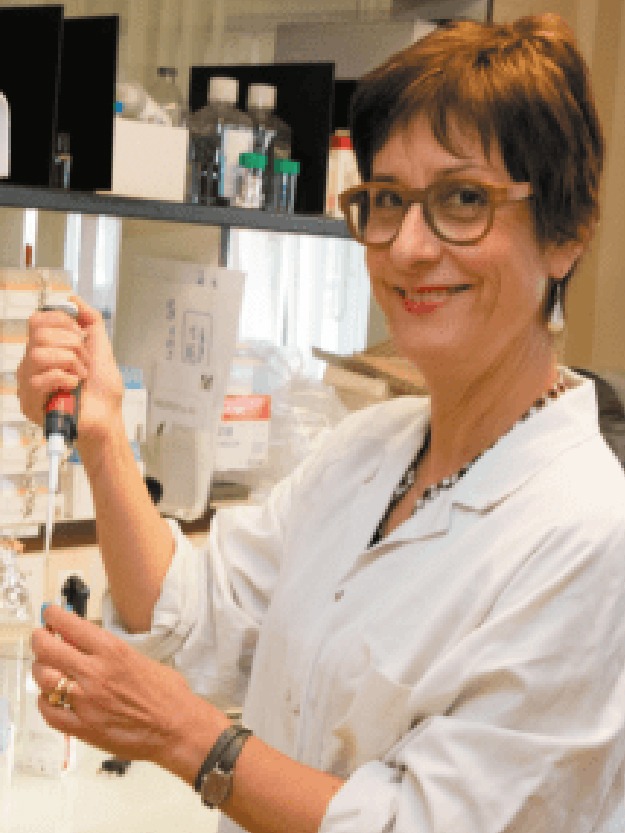 Professor of biochemistry and researcher at UMR 1011 Nuclear Receptors, Cardiovascular Diseases and Diabetes.
"Can you explain to us your professional background and what led you to take charge of coordinating the courses? "
I have been passionate about biology since I discovered this discipline in elementary school. But I almost missed out on my vocation! After a first internship in a laboratory which disappointed me terribly, I took a sabbatical year to develop my professional future project. I then resumed my studies by following a training course which led me to do an internship in the laboratory then headed by Jean-Charles Fruchart at the Institut Pasteur in Lille, a laboratory that I have not left since. The collegial adventure of discovering the fascinating world of the living is fascinating.
So … why diabetes and cardiometabolic disease? It is imperative to better understand the pathophysiological mechanisms in order to identify new therapeutic targets and thwart the epidemic of "diabetes" and its cardiovascular and hepatic comorbidities.
The proximity between research and teaching activities makes it possible to closely link the production of knowledge and knowledge to their transmission, in particular in master's and doctoral courses. The university plays a decisive role in this process by promoting attractive quality education. It is within this framework that the establishment of the Graduate Program of ISITE falls.
"What are the innovative techniques that you are going to put in place with your team and the projects that will be backed by them?"
Today, both research and care require highly qualified personnel (researchers and physicians) with multidisciplinary knowledge and a global vision ranging from basic research to clinical applications. This is why education and training constitute one of the four fundamental pillars of PreciDIAB, alongside fundamental and translational research, clinical research and care, as well as promotion and dissemination.
Research on diabetes in all its dimensions requires a multidisciplinary approach, a key point in PreciDIAB's teaching programs. Also the lessons are given by teachers / researchers, researchers, clinicians, stakeholders from the socio-economic world, concerned with basic and clinical research, care but also with health ethics. Our goal is to train people capable of bringing real innovations both in the treatments offered and in the care of patients itself.
"Can you describe the graduate course and the university degree in more detail? "
PreciDIAB's education-training program revolves around two initiatives:
1) The Graduate Program "Precision Health" that I coordinate offers a unique training in the search for excellence to train students in innovative concepts that will guide the health of tomorrow. It is open to biologists, physicians and pharmacists, as well as (bio) computer scientists and mathematicians of local, national and international origin, to train the next generation of research leaders for universities, industry and biotechnology. . The lessons are given in English.
This Graduate Program comprises a master's degree in biology and health and a doctoral program. It is structured around interactive seminars on current cutting-edge technologies and approaches (eg: big data, OMICS, IA, innovative therapies, etc.). The applications are chosen from the key themes of the health sector of the University of Lille, which cover a whole range of chronic diseases. The seminars are given by renowned local, national and European experts in the field. Research training will take place in the internationally recognized laboratories of the University of Lille, in particular in the laboratories of PreciDIAB and EGID. All Graduate Program students will have the opportunity to undertake international mobility during their training.
With a view to preparing for professional integration into the business world, various initiatives aimed at raising awareness among Graduate Program students of the socio-economic world (innovation, creation of start-ups, management, intellectual property, etc. .) are implemented: interventions by members of the local entrepreneurial community (Cousin Biotech, Lattice Medical, Apteus, …) and international (Bayer, Sanofi, …) in seminars, METABOMIR industrial chair, connection with the University Diploma Health Bioentrepreneurship, industrial club of PreciDIAB …
Attractive doctoral scholarships are offered to students who are determined to continue their research training.
2) The second part of the education and training project of PreciDIAB is the creation of the Inter-University Diploma "Clinical Investigation in Precision Medicine" led by Pr D. Deplanque, a unique project in France. This IUD is intended for doctors, pharmacists, scientists and all healthcare professionals. The aim is to train experts in precision medicine clinical trials, investigators, clinical trial managers, people in charge of developing healthcare products in industry and evaluating healthcare products. Health in agencies, this training certifying GCP (Good Clinical Practices). The courses will be taught in English, largely in e-learning, with personalized follow-up and face-to-face seminars which may be supplemented by a practical laboratory internship. The speakers will come from the academic and industrial world.
These two complementary teaching components, in graduate training and lifelong training, offer an innovative and attractive program to train future players in the world of research and precision health around diabetes.
We are ready to welcome students!
Contact: anne.tailleux@univ-lille.fr